I was tempting to go back MR today but after last week run...not motivated to do so this week....so i thought, it is time for me to clock some mileage....i decided to test the waterbag that was given to me by someone who has dumped it in his storeroom for years....i wanted to try loading it with 1.5L of water, a towel and a tee to change.
decided to hook on my puma and went ahead at 7am...it was a sunny day actually and i regreted not having my shades on for the run....with loaded bag, i went at snail pace..using run/walk method....with ratio of about 8/2..the bag holds well without must irritation, no swaying and the cushioning at the bag is good....straps it well and the waterbag is like part of my body However, my shoes started to give me problem..only the 3rd time and 1st time on LSD, wonder if it is due to my extra load that my landing causes the insoles of my leg foot to slip to the back.....it was so back that i can see my insoles sticking out of my heels..i had to took it out and re-adjust it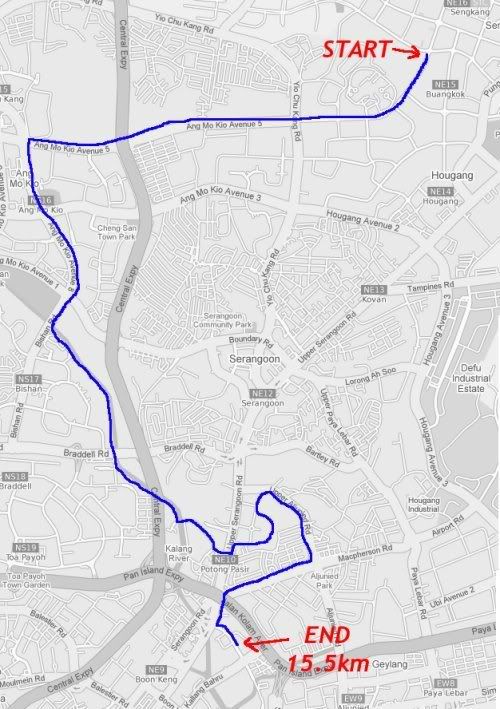 i decided also to explore new routes...from sengkang, went down to buangkok and continue to AMK mrt, follow MRT line and came to the canal at bishan park..i followed the park connector all the way to potong pasir. since distance is quite short, I took a small detour to the former christian cemetery ground....i went by it everyday to work and finally able to run in it....a nice peaceful environment with quite a few joggers... i escaped to upper adjunied road and hit macpherson road, i turned right and continue till i hit the PIE....crossed the complicated junctions and turned into geylang bahru..stopped at the food centre for breakfast total distance is about 15.5km and i took a snail pace of 2hrs...a good run with new setup...i was able to control my pace and took my walk break faithfully...finished strong and happy ************************************************************************ i din stayed long at home after the run...took a shower and off i went to beach road market for lunch before heading to Kallang sea sports club....since k and B are taking their 2-stars course today and since i am free, i decided to come down to paddle for the 2nd week while meeting they for dinner after that. took the slalom and rented for 3 hrs....as kallang basin is a restricted area, cannot go far and do much...just laze around, enjoying the sun, the sand and the sea...watching the dragonboaters torturing their arms and kayak trainees doing their capsizing routines... ************************************************************************* After B and K finished their day of course, Kops brought us to Sembawang/Yishun to eat the "taste of thailand"...we have pinapple rice, tom yam soup, fried fish, vege,......dinner not satisfying, we went to chong pang nasi lemak, saw the long Q and also no temptation to eat, we took a quick drink and went down casaurina...wanted to have zhu chang fen...but not available at nite....we finally ended up at kovan alisan...finished 2nd round dinner, went over serangoon garden grass jelly and soy bean....took "Michael Jackson" and chit chit chat before we head home and ended our day.... A satisfying enjoyable day..............