After taking medicine for 2 and a half weeks with no exercise, i thought May day is a good time to re-start my running again....have no motivation and hope...i decided to join the fast and furious May Day run at HSP by the speed monster....not sure how much i can last...cannot then walk lor woke up at 6am and see that the weather is very good....but lightning started very soon and thunders follows...storm came at about 6:15am. i logged on to the forum and see whether any happening inside.....teelee was online and we pray and hat till the rain goes away....it was up and down until 7am that it started to died down....still drizzling, i made a call to make sure someone was there... i see that the rain has stopped so i hooked up my gears and out of the door i went....half way thru my run to punggol park...the rain started again...damn...i was going at a pretty fast pace and ran 2km in about 10min....siao liao...later sure cannot catch up with them one... saw XDD, TK, BR, RR and SB at the bliss restuarant shelter by the lake as we chat...the rain somehow stopped...teelee came followed by DR, DO and K with their white caps, white top and black tights (golden boys' uniform?)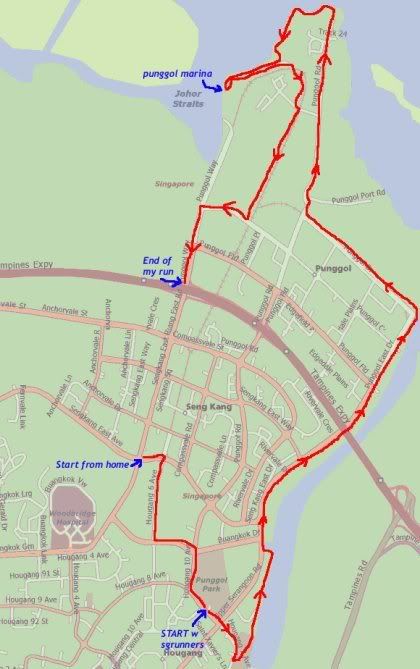 after all went to have our last pee, we started slowly towards hougang ave 7....XDD want to run thru the park along the river.....

we went thru a bit of trail and emerged from the vehicular bridge and continue our run along sengkang east drive to punggol east drive.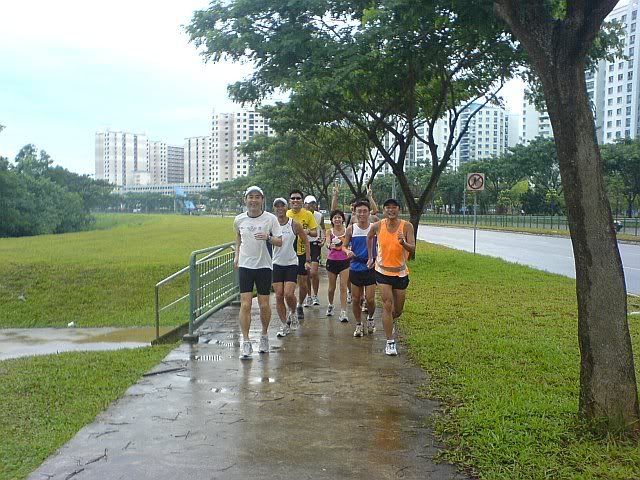 ....following the LRT line,

we came to punggol road as we turned right and ran along this small concrete pavement by the side of the road.
...we up and down the slopes 2-3 times, we finally reached punggol point.... This place has changed a lot ever since i last came...everything was torn down and left a small jetty with a policeman on guard....a few auntie was searching for worms at the beach and uncles fishing.
We continued to walked west-ward towards punggol marina and saw 7 dogs loitering along the beach....went past the big PA chalets and have to cross a small drain before we reached a sand trail....
...a few vans with drivers fishing by the side....we came to a big drain and this time, it is too big for us to cross. We back-track and find our way to the main road and follow to reached punggol marina... after toilet break, we walked around and found ourselves at the pier with couple of expensive yachts.
..took a few photos together and saw a boatel coffee corner by the huge boatshed...we decided to take a break here to la kopi...enjoy the scenery....after which we head back to the main road...my legs are weak now... The rest started quite fast for me so i left behind the pack.....XDD mentioned there is a shortcut...but not familiar so we continue along the road until we came to a LRT track where we can see punggol estate and other LRT lines....we took the risk....having logical sense that got LRT track sure can go, my legs gained energy as we hit the trail so i led the gang along the LRT track and hit punggol mrt straight!! Wah! that was really a short-cut! no slopes and great surface to run on.... we turned right and went along punggol way.....after hitting the junction with TPE exit, i decided to stop and let the rest carry on....after no running for so long, i guess, my legs has enough today....and so i decided to leave the gang and continue to take a stroll with the nice cooling breeze home. estimated i covered about 15km.....the run was not continuous, it was at quite fast pace but with a couple of long breaks for photo taking in between..it was a good run with everyone keeping close to each others....din expect i can last that long......look like running can really re-start again....