Today is National Day 2008..had a family lunch at Tampines and did not plan any programme after that...so I thought, I will shift my monday plan to visit Queensway Shopping Centre to find Brooks Axiom 2 today....I intended to get a pair of it to motivate myself to train for this year marathon
Reached Queensway and decided to head for the market for my Favourite Avogado Juice first...also had a plate of fried carrot cake to boost my energy for shopping later...
first thing I noticed about this old shopping centre were the big advertisement on this month end Nike Human Race...stepped into the entrance and first thing i did was to turned right to Sportslink...as this is the only place to find Brooks running shoes....so many months never come here....the whole shop got renovated and re-shuffle their products layout...
Brooks was right on the left side of the entrance and the whole rack of running shoes....saw a miserable pair of Brooks Axiom 2 on the ground and ask for a pair to try on...but was told that it was the last pair available and was going at $97..quite disappointed that the last time clearance sale selling at $69.90 also dun have my size
No choice lor...so I browse around the shelf and this pair of red/white/silver shoes caught my eyes...never this on the shelf here before....and DAMN! It was the NEW AXIOM 3!!!!And I also saw the attractive Racer ST 3 nearby...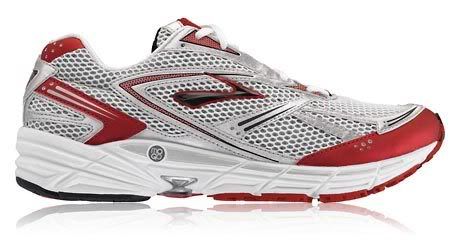 I was so Surprised that this shoes, only released in the states less than a month ago was actually brought in!...no hesitation, I asked for a pair of size 12 and try it on!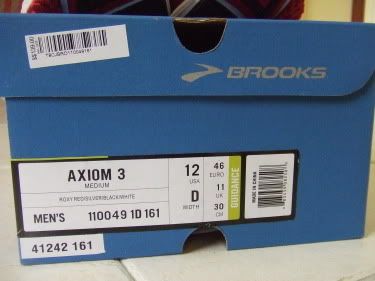 First feeling was that it was light...and the fit is sufficiently wide for my feet even it was a width D..jogged around the shop and felt good....I can even felt the hydroflow pad at the forefoot.....
I also ask for a pair of Defyance, which Runner's World awarded the Defyance its "Editor's Choice" award in its Summer 2008 Shoe Review.
Felt OK too but the Defyance is a lightweight cushioned trainer that has a curve last and a broader base for neutral cushioning and Axiom 3 is a lightweight stability trainer with a straight last a medial support....Defyance also has a bigger heel landing area which is irritating for non-heel striker like me....No difficult choice...I took the Axiom 3 as my National Day Gift this year....somemore colour got red and white...
With a shelf price of $139, it is probably one of the most value for money shoes in the market...Probably the cheapest among other shoes under the same category like ASICS DS Trainer, New Balance 903, Nike Air Zoom Elite 4+, Saucony Tangent........if you checkout the website here which also mentioned similar shoes, the price for Axiom 3 is the lowest
My new baby on its box:
Then my wife commented...Isn't this the same as your Nike shoes??? then I realised that it has the SAME colour combinations as my Nike Air Zoom Elite 4...OK...see the similarity there below??
Let me go for my first run with it and I will write a comparison review of the 2 shoes since they belongs to the same type of running shoes...watchout for it!!!
And here is my latest collection of shoes with RED: