Here I am doing a shoes comparison between 2 lightweight performance stability trainer in the market...cannot remember when Elite 4 is out in the market but I think is about 5-6 months ago but the Axiom 3 is out only a month back
Nike Zir Zoom Elite+ 4 VS Brooks Axiom 3
Midsole foam: Axiom:MoGo ; Elite:EVA(dunnoe if got a name for it or just normal EVA)
Main Cushioning Technology: Axiom: Hydroflow ; Elite:Air zoom bag
Mesh: Axiom silver coloured mesh consisted of 2 layers...very breathable
Mesh: Elite white coloured mesh also consisted of 2 layers...but the inner layer holes are smaller but still OK
Forefoot: Look by the side, you can see that the forefoot for axiom is more curved up which actually guided the feet to have a smoother and faster tos-off
Flexibility: I tried the bending the forefoot for Elite and this is the most I can do it with much strength...very stiff
Flexibility: compared to Axiom, you can see that I can bend at least 100% more easily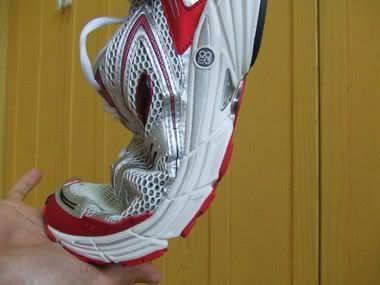 Lacing: Elite has normal holes lacing
Lacin: Axiom has an interesting change in lacing method at the middle which give a better hold and easier to tighten and loosen
Medial support: Elite is using a full medial arch support which uses a dual density compressed mold EVA for pronation control
Medial support: Axiom uses an unique Split Diagonal Rollbar (DRB®) presents a high-density post at the medial arch allowing for pronation control.
Outsole: Comparing the outsole for both left side shoes with Axiom on the left and Elite on the right, you can see the triangular pod under the arch for pronation control.....the groove concept is also different.....Axiom resulted a better and more flexible midsole as a result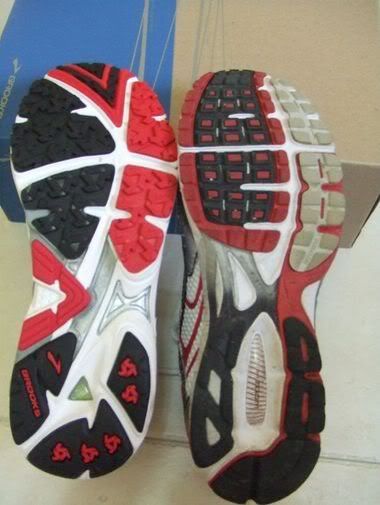 Shoes Tongue: Looking at the tongue for Elite, it is long, looking like something poking out and irritates and can cos abrasion to the bottom for the shin...not very friendly there
compared to the Axiom which is much shorter and in fact, the shape actually wrapped nicely around the feet
lastly, looking at the heel with Axiom on the left and Elite on the right. Elite provided a softer landing becos of the softer foam inserted at the landing side. Axiom has a broader midsole at the heel landing area and is actually a bit thicker than the elite
Conclusion: I will not conclude which shoes is better...to each its own..every runner's feet are different...even not the same for your left and right...running style also affects the type of shoes to be used.....some may prefer the stiffer Elite but some may prefer a more flexible Axiom....both shoes are almost the same weight...Axiom does felt light after a longer run and the more curved forefoot makes it a faster shoes than the elite...both I would say these shoes should be OK for neutral runners who need a little support and runners who has mild over-pronation...
Other Options of the same type: New Balance 903, Saucony tangent 3, Asics DS Trainer, Mizuno Elixir, Adidas Adizero Tempo