Due to some reason and thanks to Nike, I managed to get my hands on a pair of lightweight stability trainer called Air Zoom Elite+ 4:
I did my first run in them last week for 6.3km.....
Because it is a lightweight stability trainer, its weight is lighter than other trainers (only i talking rubbish here)...it has a medial support which helps in controlling pronation for running with mild over-pronation problem
The outer of the heels uses a softer cushioning to absorbed the imapact upon heel landing and as the feet rolled forward, the medial post which is grey as seen above will help to guide the feet forward and provide support to the arch....
This model is actually a bit narrower in terms of fit..I have a wider right feet so it felt snug.....even my thinner left feet felt snug....just after a few minutes into my run...i started to run into some issues.....the right outer side of my feet started to hurt...the hot spot is quite common for me even in my current cushioned trainers....the pain usually goes away after a while....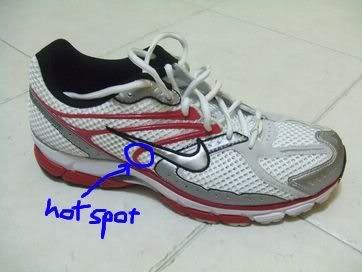 However, the pain dun get away as my run progress...but luckily it did not get worst....and still bearable.....and i managed to finished my run with it...
I will not make any conclusion on this shes yet...maybe my feet need sometimes to break into the shoes as I dun wear stability trainers in the past....
I probably try to loosen my laces for my right feet to see if the pain goes away....as for other factors like cushioning and so on....i will cover it as I get more runs in them