I decided to blog in a different way...rather than my chronological order...I will go by items or topics....this time...food
Breakfast on second day morning....at a shop just beside the hotel selling local food....saw a large crowd of working executives outside this shop to packet the food to their office....so I was one of the few who actually eat in a small corner of the shop.....and ordered these with my colleague...i must say.....delicious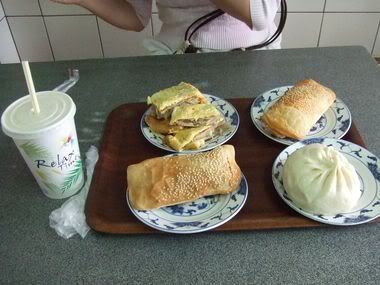 The pork Bao is similar from the one we had in Singapore....but fresh and meaty are the words to describe it......Sedap!
2nd Nite...was wndering around looking for food when we found this street called "Teat Street"...it was actually a row of Taiwan Bubble tea restuarants.....bubble tea used to be popular in Singapore....this time must try the original local favour..
So ordered a set meal for NT$160 which is about $7.60...including bubble tea..one for me and the other one for my colleague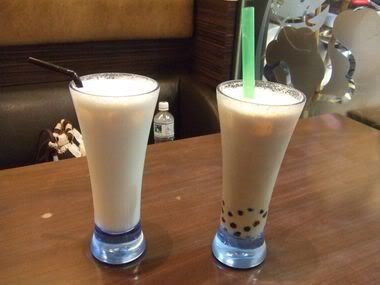 The bubble tea is more milky and smoother than the one we had and they really have bubbles....and my set meal is the fish nuggets set...I am not very impressed by the fish fillets
My friend's stew beef set
The Beef is good....lots of fat and tender...but exspensive...only 4 pieces in there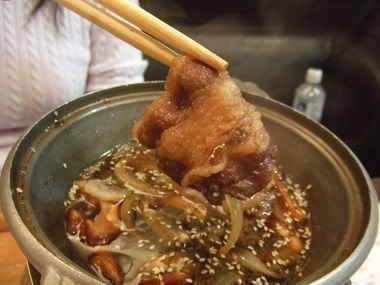 The restuarant interior is quite cosy...actually the whole place was filled with students in uniform and smoking.....I wonder if the fire detector works..and the waitress still ask us if we want smoking and non-smoking corner...which I do not see a diff lor..and actually the whole street are restuarant like these for the youngsters
3rd day breakfast....the problem I see in Taipei is that it is difficult to find breakfast place......walked for an hour and decided to find a new one and decided to go back to the same stop as the day before but had a bit of different stuff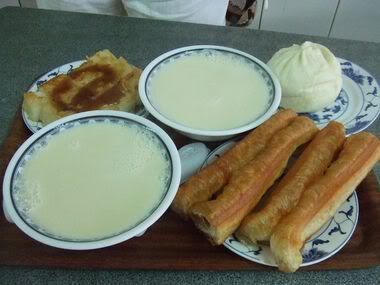 Flight was 2.30pm on 3rd day...so we reached airport at 12pm to check in
So we hungry and look for lunch place....
Saw food on second level and decided to explore more
found a few stores like beef noodles and Japanese Shabu
So we ended up at the Shabu place
Order a set of beef and mutton...the vege came and is quite a portion
and the meat arrived minutes later
More coming up..............................